Kick back with custom bedroom storage
Create a calm haven with bedroom furniture that never sleeps on style.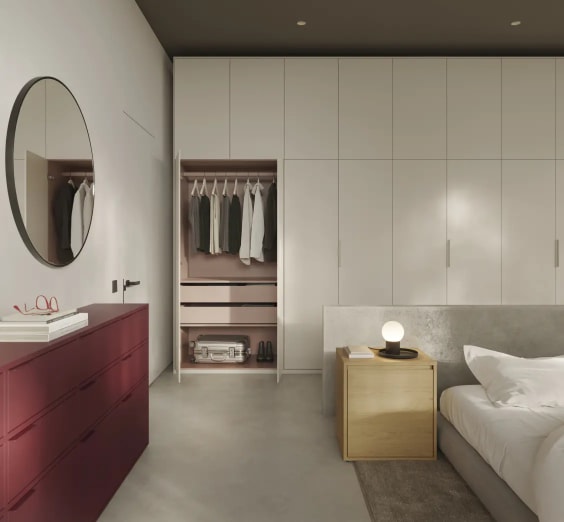 The Wardrobe
Streamline clothing storage and stay organised with a modern Wardrobe that doesn't sacrifice space - or style.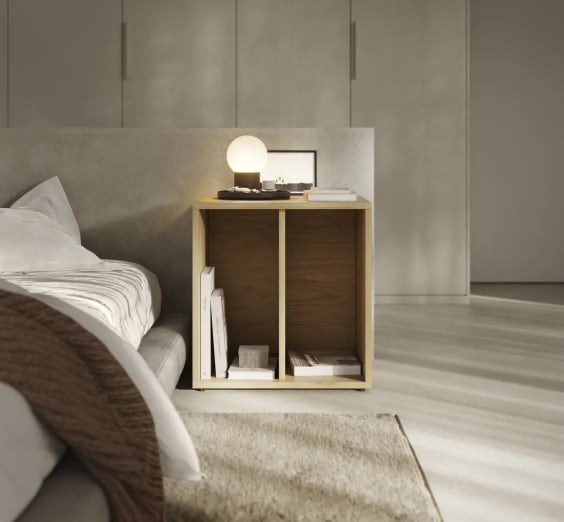 The Bedside Table
Keep surfaces clear and put clutter to bed with custom Bedside Tables that make extra space to store bedroom essentials.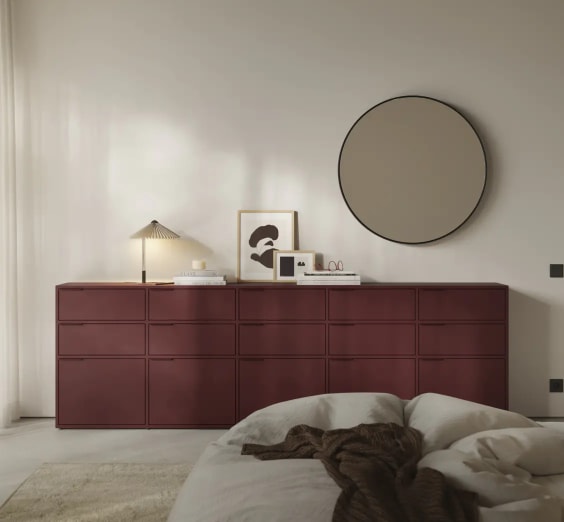 The Chest of Drawers
Two drawers or ten? The choice is yours with a Chest of Drawers designed to neatly hold exactly as much (or as little) as you need.
Tylko Rooms
Experience the perfect fit effect.
Design storage that perfectly matches your space, and enjoy the tranquility that comes with it.
4.9 based on 7552 reviews

Free delivery to Other Regions
Bedroom solutions
Discover cleverly-designed storage to maximise your bedroom space in style. Swipe to get inspired.
Tylko looking good in your homes
A word from our customers
4,9/5 based on 8459 reviews
These shelves are exactly what we wanted.
They look fabulous in or bedroom love the design and very good quality and very solid. They were really easy to assemble but you do need two people as they are heavy. I will definitely be recommending Tylko to friends and family and would buy shelves again as we are delighted with the finished product and the service.
Very well made
Well made flat pack product, took quite a bit of hammering and strength to fit all together, but end product is very sturdy. Good instructions and great felt covered protector board provided for hammering, nice touch. Space is limited for us so I chose a set of drawers that fit under the bed perfectly
Stunning engineered shelving!
We are extremely pleased with our shelves. They not only look fantastic but the build instructions are the most straightforward I have seen. Despite being nervous when six boxes of parts were delivered each part was clearly labelled and the instructions easy to follow. Each part has been engineered to fit perfectly - I don't think built in shelves would be any better. Two people are required to construct the unit but we did manage to build the top half upright due to the lack of floor space. We have already started designing our next unit for the next bedroom remodel....
the perfect size for my space
This chest of drawers is my fifth Tylko unit. I have an awkwardly shaped bedroom and the customisation of the Tylko units have enabled me to fit to the available space perfectly. I managed to make the unit entirely single handed.
Excellent
I am very happy with my wardrobe. Everything looks amazing, easy to assemble, perfect fit and well made. Delivery and installation were flawless. My bedroom has never looked better.
Absolutely fabulous!
Great to feel you have some input into the design and that your shelf is a bit different from others. Love the colours, the quality of the build and the way everything was packed and labelled to make building simple. Required a bit of physical input to get the pieces into position but think that it's unlikely to ever fall to bits! Only problem I had (of my own making) was that the unit was large and nearly completely fitted the floor which made getting it difficult to get it upright. Also, because it was large it was also heavy (testament to the quality of the materials) so needed some professional lifting help to get it into place. None of this is a negative reflection on Tylko. I'm now planning the next unit for the bedroom!
See all reviews

Discover more Tylko Rooms
Big ideas for small bedrooms
At Tylko, we're experts at designing storage furniture that makes the most of small spaces. By using our online configurator, you can bring your great shelf ideas to life by customising size down to the last cm and adding doors and drawers to keep extra storage neatly tucked away.
The right colour is crucial
Choosing the right colours for your bedroom is crucial. Our bedroom furniture comes in a wide range of timeless, subtle colours — including White, Oak and Grey — to invite calmness and harmony into your room. If you're into a bold aesthetic, our options also include statement hues such as Black, Pink and Green.
Create the perfect bedroom furniture set up
Create a bedroom you love by filling it with storage furniture that provides everything you need to feel at ease: including a Wardrobe that makes your everyday life a little easier, a stylish Bedside Table that keeps personal items at arm's reach, and a handy Chest of Drawers for storing smaller items.
The ideal bedroom wardrobe design
The Tylko Wardrobe has been thoughtfully designed by experts to make organising an easy and enjoyable experience. Smart and stylish details include: premium quality materials throughout, soft closing doors, space-optimising drawers, ergonomic hangers made from durable aluminium, and 12 pre-set segments to offer a perfect storage solution even in small bedrooms.
Safe furniture for your children's bedroom
We make customised storage for bedrooms that boys and girls will feel great in. Built with the super sturdy, FSC® certified woods and finished with non-toxic, natural oils, you can rest assured that our furniture is child friendly. Create the ideal layout to keep toys, books, clothes and more and choose the ideal size to perfectly suit your children's space.
Modern bedroom design
Our product lines come in a wide range of colours to allow you to perfectly match the colours of your bedroom interior design. For example, if you're decorating a white bedroom, we suggest white, grey or black shelves. If you're going for a more outstanding style, we've got blue, pink and green shelves.
Bedroom furniture sets
We understand that buying a bedroom furniture set, including a Wardrobe, Sideboard and Bedside Table is a big decision and investment. Tip: head over to our promotions section, where you can browse our latest offers and shop our premium storage for less.